General Dentistry
Comprehensive Dental Care for the Entire Family
Dr. Woeltje has provided advanced, high-quality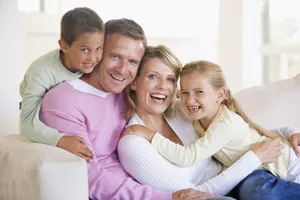 dentistry for thousands of smiling faces for over 27 years in Streator — while keeping patient comfort and individual concerns in mind. His practice combines personalized, friendly, professional service with advanced technology. Choosing a dentist comes down to a feeling of trust. We strive to earn your trust by providing you with the highest standards of care that we would expect for ourselves and our loved ones. Our job is to listen to you, respect you, and advise you in determining the best treatment for YOU. We make it a point to explain your proposed treatment plan carefully and answer all of your questions. Only then will we begin to take you gently through your treatment. Our goal is to exceed your expectations.
We are Totally Committed to Delivering Gentle Dental Care
Let's be honest. Many people feel apprehensive when they arrive for their dental appointment. And why shouldn't they? In the past, few people would believe that their dental appointment could be truly enjoyable.
But that was the past! Dr. Woeltje is constantly looking for techniques that can result in truly comfortable dentistry — a radical difference from the dentistry of just a few years ago.
We offer special touches to make your environment comfortable. Enjoy our beverage bar with coffee, tea, and drinks. During your visit, relax in our comfortable chairs and listen to music. Our entire dental team is dedicated to listening to you, understanding your needs, and making your care as comfortable as possible.
Dr. Woeltje offers a variety of general dentistry services for adults and children. Please see our list of services in the service menu below. Our Practice is about integrity. We earn our patients' trust by focusing on their long term well being.
Our practice is committed to your comfort. Patients often say they feel the red carpet treatment the moment they call.
From the minute you walk through the doors our entire staff is here to help make your visit the most comfortable dental experience.
---
Dental services provided by Dr. Woeltje:
Click on the links in the box below to learn more about each service.